"A Theory of Justice" by John Rawls, at Fifty-Two
By Catherine Audard and Michel Forsé.
Our article written for the half-century anniversary of Rawls' A Theory of Justice is now available for free on Project MUSE.
Throughout 2021, numerous celebrations, conferences and events took place to pay tribute to the Harvard philosopher John Rawls (1921-2001) and to his most famous book, A Theory of Justice, published fifty years before in 1971. In the 1970s, the publication became an immediate success worldwide and its influence has been deemed tremendous, the most commented and quoted philosophy book of the century.
What was so special about A Theory of Justice was that it brought back to the forefront major normative political and moral issues such as the meaning of distributive justice and its value for democracies, as well as a definitive critique of welfarism.
Through an evocation of Rawls's impact as experienced in the States, in France and Europe, from different disciplines ranging from political and moral philosophy to economics and politics, the June 2022 issue of The Tocqueville Review/La Revue Tocqueville helped understand the complex nature of European-American cultural and political relations, well in the spirit of Tocqueville. This introduction to this issue presented the various contributions that have been brought together to achieve this goal.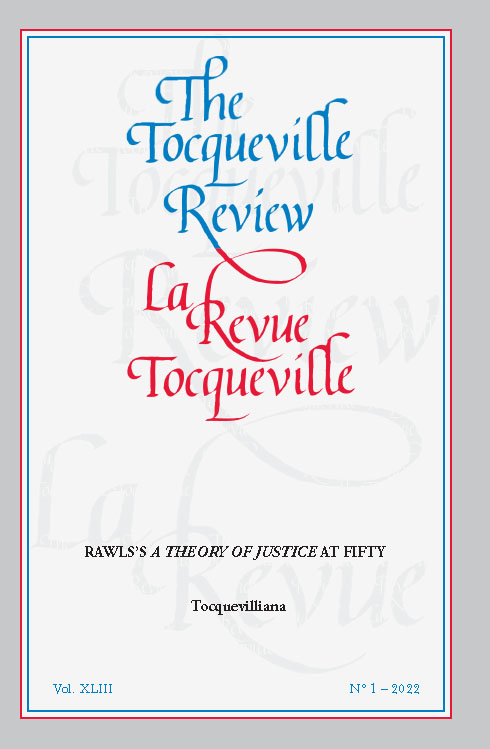 The June 2022 issue of The Tocqueville Review | La revue Tocqueville can be consulted in its entirety on Project MUSE as well as with the University of Toronto Press Journals. Read our full presentation of this special issue on "Rawls' A Theory of Justice at Fifty."
Readers can also discover part of the December 2022 issue of The Tocqueville Review with a freely accessible article on "The Democracy of the Spectacle," written by our very own Art Goldhammer.