New Edition: 'The Tocqueville Review' | 'La Revue Tocqueville'
Share the post "New Edition: 'The Tocqueville Review' | 'La Revue Tocqueville'"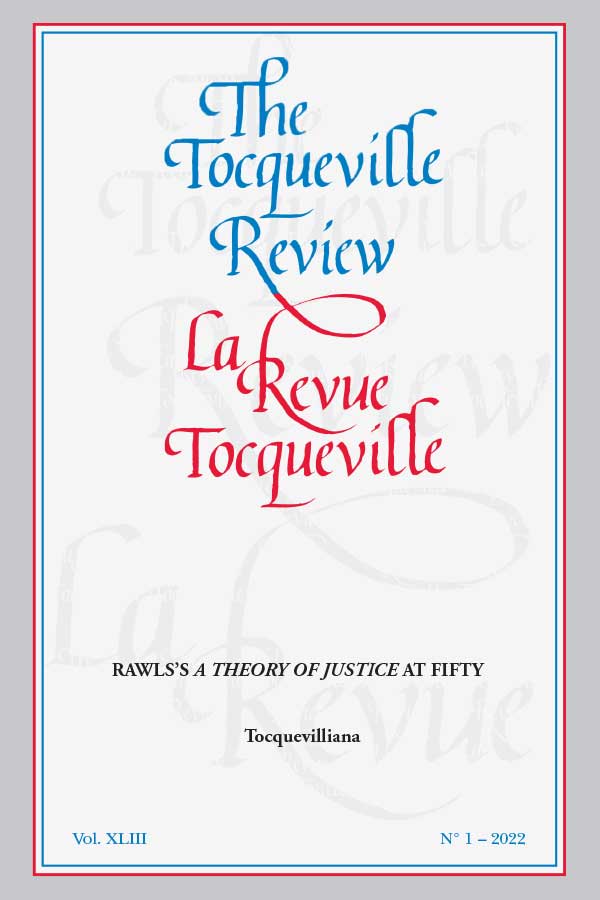 Rawls's A Theory of Justice at Fifty, a special edition
Published in the spring of 2022, the latest edition of The Tocqueville Review is now available online. (Vol. 43, No. 1)
L'édition la plus récente de La Revue Tocqueville, publiée au printemps 2022, est désormais disponible en ligne. (Vol. 43, No. 1)
A journal of social science, the Review publishes essays on current affairs, history, and political philosophy; it also features a regular section on Tocquevillean studies. This edition contains articles in English by Michael J. Sandel, James T. Kloppenberg, David A. Reidy, Thomas Ferretti, Luke J. Foster, as well as by its editors Catherine Audard and Michel Forsé.
La Revue Tocqueville est spécialisée en sciences sociales, publiant des essais sur l'actualité, l'histoire et la philosophie politique ; elle contient également une section sur les études tocquevilliennes. Dans ce dernier numéro, La Revue publie des articles en français par Céline Spector, Philippe Van Parijs et Claude Gamel.
(English) – Discover the Review below:
"Rawls's A Theory of Justice at Fifty: Introduction": article by Catherine Audard & Michel Forsé.


Throughout 2021, numerous celebrations, conferences and events took place to pay tribute to the Harvard philosopher John Rawls (1921-2001) and to his most famous book, 

A Theory of Justice, published just fifty years ago in 1971. Through an evocation of Rawls's impact as experienced in the States, in France and Europe, from different disciplines ranging from political and moral philosophy to economics and politics, this issue of The Tocqueville Review/La Revue Tocqueville will help to understand the complex nature of European-American cultural and political relations, well in the spirit of Tocqueville.

"Remembering Rawls": article by Michael J. Sandel. A few days after the death of John Rawls in 2002, Michael Sandel published this tribute to the author of A Theory of Justice. In particular, he reminds us that Rawls revived political theory by showing that it was possible to argue rationally about justice, rights, and political obligation. According to Rawls's liberal egalitarianism rights cannot be based on utilitarian principles. This break point inspired a new generation to take up classic questions of morality and politics.

"John Rawls and 'Our Tradition' of Democracy": article by James T. Kloppenberg.

The notion of a clear distinction between Rawls's liberalism and social democracy rests on a caricatured conception of the liberal tradition and Rawls's place in it.

In this essay I sketch the ways in which American thinkers and activists escaped the cages in which commentators have tried to confine them, not only the false binary between liberalism and democratic socialism but also that between secularism and religious belief. Rawls's ideas, especially as articulated in his book Justice as Fairness, remain a vital resource for social democrats who prize social and economic equality as well as individual liberty.
"Rawls and Racial Justice in the United States": article by David A. Reidy.

It has become increasingly common for students and scholars to criticize Rawls's work as irrelevant, or worse, when it comes to issues of race and justice. Though he clearly judges both structural and systemic racial hierarchy and interpersonal racial disrespect to be non-controversially unjust, Rawls does not much explore, either in his ideal theory or in his non-ideal theory, issues at the intersection of race and justice. In this essay, drawing from both his texts and biography, I highlight some of Rawls's thoughts on, and the seriousness with which he approached, these matters.
"Justice Between Individuals: John Rawls and the Demands of Political Liberalism": article by Thomas Ferretti. John Rawls proposed A Theory of Justice (1971) aiming at building consensus in democratic societies. Rawls' political liberalism offered a method to build political agreement between people with different and conflicting values and interests, to preserve peace and other benefits of stable social cooperation. Fifty years on, while authors like Katrina Forrester (2019) suggest moving on from the ideal of political consensus, other voices such as Catherine Audard (2019) remind us of the relevance of public reason in a world full of divisions. This paper builds a dialogue between these two influential authors to assess the legacy and relevance of Rawls' political philosophy today.
Tocquevilliana: "Can the Great Books Serve the Common Good? Tocqueville on Aristocratic Education in a Democratic Age": article by Luke J. Foster. This article engages two established modes of analyzing Tocqueville's theory in Democracy in America—the institutionalism of Volume 1 and the "art of association" of Volume 2—to argue for the importance of a Platonic theme in Tocqueville, that of education for leadership. After establishing why Tocqueville argues that democracy struggles to cultivate quality leadership, the article turns to examining one proposed solution: education in the classical humanities.

(Français) — Découvrez La Revue ci-dessous :
« De Rousseau à Rawls. La théorie de la justice comme 'utopie réaliste'? » : un article par Céline Spector.

Dans l'histoire des usages philosophiques de Rousseau, John Rawls mérite sans conteste un traitement privilégié. L'auteur de la 

Théorie de la justice assume l'héritage de Rousseau – même si l'influence de ce penseur reste moindre, dans son œuvre, que celle de Kant. Tournant résolument le dos à la lecture anti-totalitaire du Contrat social, Rawls réintègre pleinement Rousseau à l'histoire de la pensée libérale et fait de la volonté générale l'un des piliers de la « société bien ordonnée ».
« Qu'est-ce qu'une Europe juste? Dialogue avec John Rawls. » : un article par Philippe Van Parijs. Comment concevoir la justice au sein de cette entité politique sui generis qu'est l'Union européenne ? John Rawls traite de cette question dans une longue lettre rédigée en 1998. La conception égalitaire qu'il présente dans sa Théorie de la justice ne peut à ses yeux s'appliquer qu'au sein d'un peuple, et l'Union européenne n'en est pas un au sens où il l'entend. La sévère mise en garde de Rawls contre la transformation de l'Union européenne en un État fédéral ressemblant aux États-Unis ne doit pas nous empêcher d'œuvrer au service d'une utopie réaliste libérale égalitaire très différente de la sienne. Au contraire.
« Cheminement d'un économiste dans l'œuvre de John Rawls. » : un article par Claude Gamel.

Tout au long de plus de trente ans de recherches en « philosophie économique », l'œuvre de John Rawls fut pour moi non seulement un précieux réservoir de concepts très bien ordonnés, mais aussi un constant point de repère, jusqu'à me risquer à quelques audaces personnelles que Rawls lui-même n'aurait pas acceptées. D'où trois étapes dans mon cheminement : d'abord le temps de la

découverte d'idées très fécondes, puis celui de la comparaison avec les œuvres de deux autres architectes de la justice en société (les économistes Friedrich Hayek et Amartya Sen) et enfin le temps de la manipulation de concepts rawlsiens pour tenter une esquisse plus personnelle d'un libéralisme soutenable.

The Tocqueville Review | La Revue Tocqueville is published bi-annually by the University of Toronto Press and on MUSE. It is led by La Société Tocqueville, with the participation of the American University of Paris and the Observatoire Français des Conjonctures Économiques. Subscriptions to the print versions can be made online.
Tags:
Théorie de la justice
,
Harvard
,
John Rawls
,
Hommage
,
Alexis de Tocqueville
,
Michael Sandel
,
Céline Spector
,
Tocqueville Review
,
Revue Tocqueville
,
A Theory of Justice
,
Tribute
Share the post "New Edition: 'The Tocqueville Review' | 'La Revue Tocqueville'"